A Letter from Our Chairman and CEO Christopher H. Franklin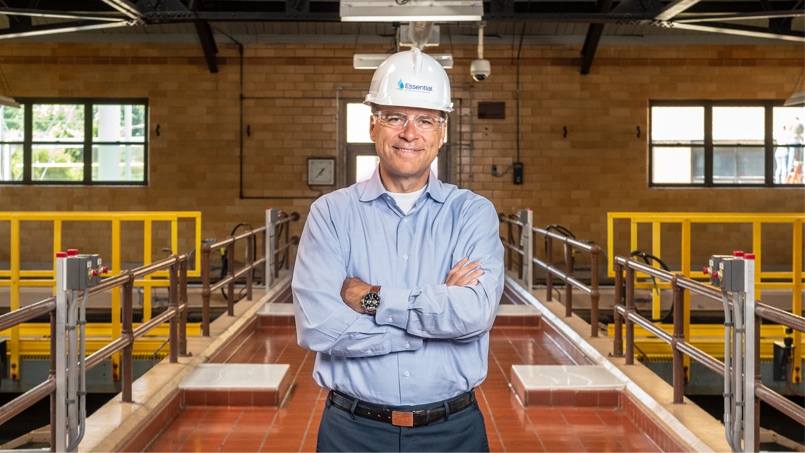 I am proud to share this report with you as an important milestone for Essential Utilities. In February 2020, Aqua America changed our company's name to Essential and in March, we completed the acquisition of Peoples, a Pittsburgh-based natural gas distribution company. Essential is now one of the largest publicly traded water, wastewater and natural gas providers in the U.S., serving approximately 5 million people across 10 states under the Aqua and Peoples brands.
Our growth has brought an incredible opportunity to increase our positive impact in the communities we serve. At the same time, we remain aware of the very real environmental and societal issues ahead of us, including climate change and societal conflicts. Though some of the problems ahead can seem insurmountable, Essential is building on the strong foundation of environmental, social and governance (ESG) commitments from both Aqua and Peoples to address the issues faced by our society.
COVID-19 has created unprecedented economic and health impacts across the country. As water, wastewater and natural gas utilities, we are a critical part of everyday life. Throughout this pandemic, our focus has been on ensuring the continued safety and reliability of these essential services for our customers as well as the health and safety of our employees. Beginning in late February, Essential activated its business continuity planning procedure and its preparedness efforts. We provided ongoing guidance and resources to employees to mitigate the spread of acute respiratory illness, lessen the potential impact of COVID-19 in operating facilities and maintain business operations. No disruptions or impact to water, wastewater or natural gas services occurred as a result of the pandemic. Our employees remained committed to our mission and safely and efficiently conducted field operations with new safety precautions in place. A temporary work from home plan was adopted, allowing employees to work remotely if their job responsibilities allow them to do so.
Our growth has brought an incredible opportunity to increase our positive impact in the communities we serve.
As we continue to provide essential services through this difficult time, we also know the needs that exist as many people struggle through a challenging economic situation. In April, Essential donated $290,000 to numerous food banks throughout the 10-state footprint where its Aqua water utilities and Peoples natural gas utilities serve customers. Leaders within our Aqua and Peoples utilities are focused on ensuring these funds provide a local benefit to the communities we serve.
When it comes to responsible stewardship of the environment, I consider our nation's aging infrastructure one of Essential's most important commitments. Through critical investments, Essential helps significantly reduce the release of natural gas into the atmosphere, prevents water loss from leaking pipes and ensures only clean, treated wastewater goes back into rivers and streams. Over the last two years we have invested nearly $2 billion in infrastructure projects to improve our infrastructure systems, including hundreds of miles of pipe replacement and plant upgrades, with plans to invest $950 million in 2020.
We are also making positive adjustments to our operations, having earlier this year announced our commitment of using 100% renewable energy to power water and wastewater operations in four states by 2022 and identifying opportunities for how we can help achieve the United Nation's Sustainable Development Goals over which we have the most influence. Continual innovation is core to Essential's mission. In this spirit, we are actively examining opportunities and initiatives to further incorporate sustainable practices across our business.
Internally, a major focus for our company has been building a culture of diversity, equity and inclusion. We understand that building an inclusive company culture requires representation at all levels of the organization, and we are working to ensure a collection of varied outlooks throughout the company. Essential has worked hard to diversify our board of directors and management, while also introducing employee groups like the Aqua Black Employee Resource group to give employees the opportunity to better understand the people, history, cultures and experiences of our Essential family and the communities in which we live and serve. Moving forward, we will continue to build a diverse and inclusive company while creating a respectful environment where all employees can succeed
Thank you for taking the time to learn more about the important ESG work we are doing at Essential. We are deeply committed to being excellent corporate citizens and look forward to continuing to improve on our standards and programs
Sincerely,
Christopher H. Franklin
Chairman and Chief Executive Officer