Employee Volunteerism
We recognize that volunteer service can be as meaningful to our employees as it is to the community organizations we serve. As a mission-based organization, volunteerism allows us to expand corporate social responsibility activities by enabling employees to attend company- sponsored volunteer events at local community organizations. It is an opportunity for employees from different sectors of the company to engage with one another and encourage conversation and dialogue. The ripple effect of volunteerism within our culture cultivates and encourages collaboration and teamwork and fosters an environment where employees feel inspired to play an integral role in making a positive impact in their region. Essential's paid volunteer time supports food banks, shelters, environmental projects, youth mentoring programs, health-based initiatives and critical resources for low-income families. Employees report volunteer hours for tracking purposes throughout the organization.
In 2022, hundreds of Essential employees across corporate, water, wastewater and gas operations tracked more than 3,850 hours of paid volunteer time. Our employees came together to volunteer their time on a number of projects impacting their local communities.
We packed 2,500+ backpacks with school supplies for children in need, outfitted low- income individuals with warm clothes for winter, fed 3,000 families by supporting local food banks, collected vital items for refugee families, mentored dozens of students through our partnerships with schools and nonprofits, built infrastructure in developing countries through humanitarian programs and much more!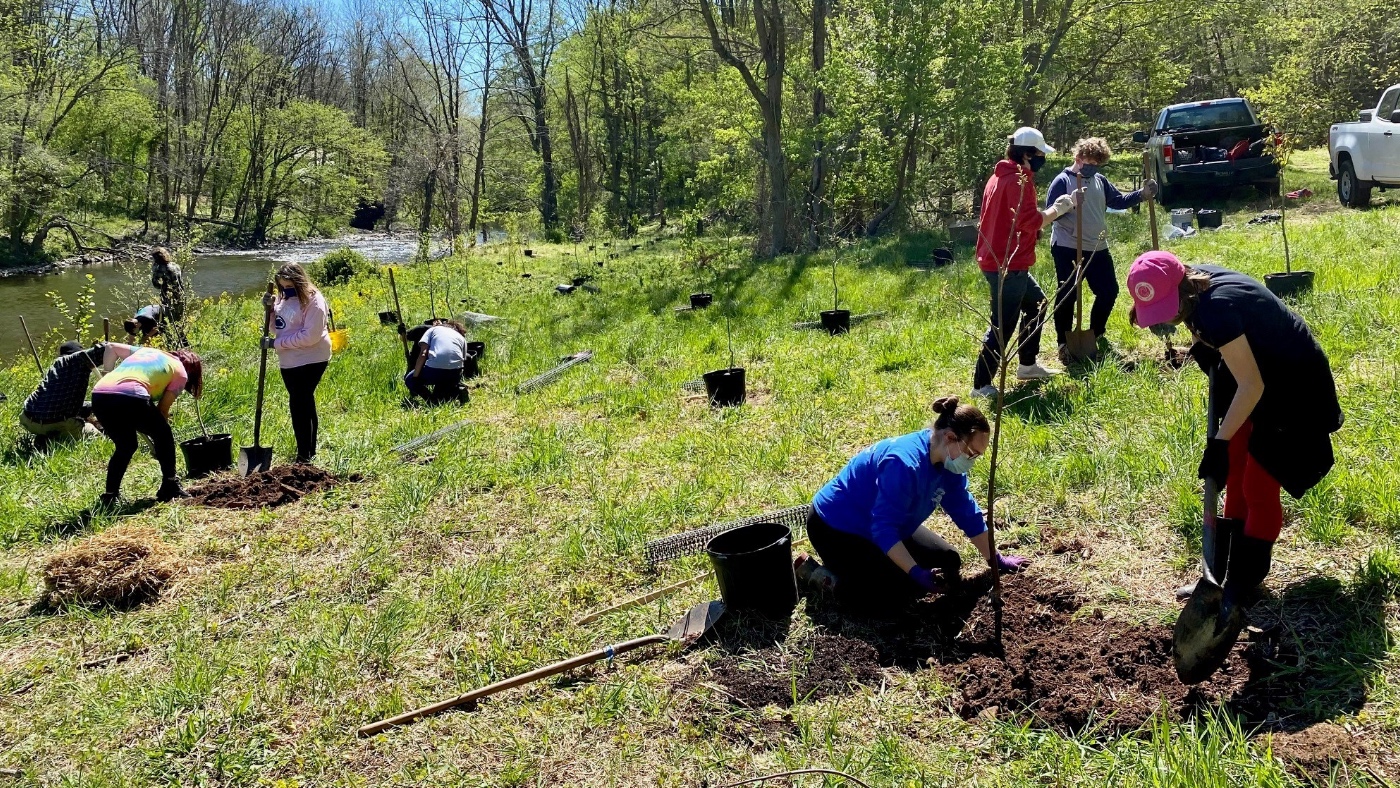 Spotlight
Essential Earth Day
In 2022, out of our deep commitment to natural resources, we created Essential Earth Day to support environmental initiatives and engage our employees in the effort. Throughout April, Essential team members participated in dozens of volunteer events across our footprint in partnership with local environmental organizations. The activities included cleaning up litter from streams, planting trees and gardens, marking storm drains and enhancing outdoor recreation sites.
In its first year, Essential Earth Day saw close to 400 volunteers participate to clean up more than 150 bags of litter and plant more than 1,000 trees and other greenery in our communities. In addition to volunteering, hundreds of team members attended educational presentations to learn about environmental topics and how to live more sustainably. Additionally, the Essential Foundation announced more than $500,000 in nonprofit grants for environmental causes.
Essential Earth Day has easily become a favorite for our team and our community partners, so we have made this an annual celebration with the goal of growing our impact each year.
Spotlight
Partnership with Villanova University
Since 2016, Essential Utilities, through our water and wastewater operations, has proudly partnered with Villanova University's Center for Humanitarian Engineering and International Development. Essential employees have joined Villanova students to provide expertise, resources and hands-on support in international projects to address water supply issues in developing nations across South America and Africa. In 2019, the partnership-driven team traveled to Wacuco, Panama, in 2019 to work on several projects, including water quality testing, rehabbing water tanks and upgrading a steel bridge in the community. Although COVID-19 disrupted plans in 2020 to perform service work in Ghana, coordination between Essential and Villanova on other elements of the project continued weekly.
In 2022, Essential and Villanova organized a trip to Madagascar, and the partnership seeks further opportunities to take part in projects abroad. Water security and safe access are very personal issues for our team and critical for every human being. We are proud to support communities both inside and outside our operational footprint while supporting the next generation of engineers and scientists.