Compliance with Regulations - Water and Wastewater
Essential's rigorous compliance program ensures we meet all the local, state and federal regulations across our eight-state water and wastewater utility footprint, including requirements for permits for air, water, wastewater and related materials stored or disposed of as the result of our operational activities. Our Environmental Management System and related governance process also support our compliance efforts.
We rigorously track and measure our compliance performance, including the number of days Essential operates in compliance with given permits and regulations for both water and wastewater operations.
Water and Wastewater Percentage of Days in Compliance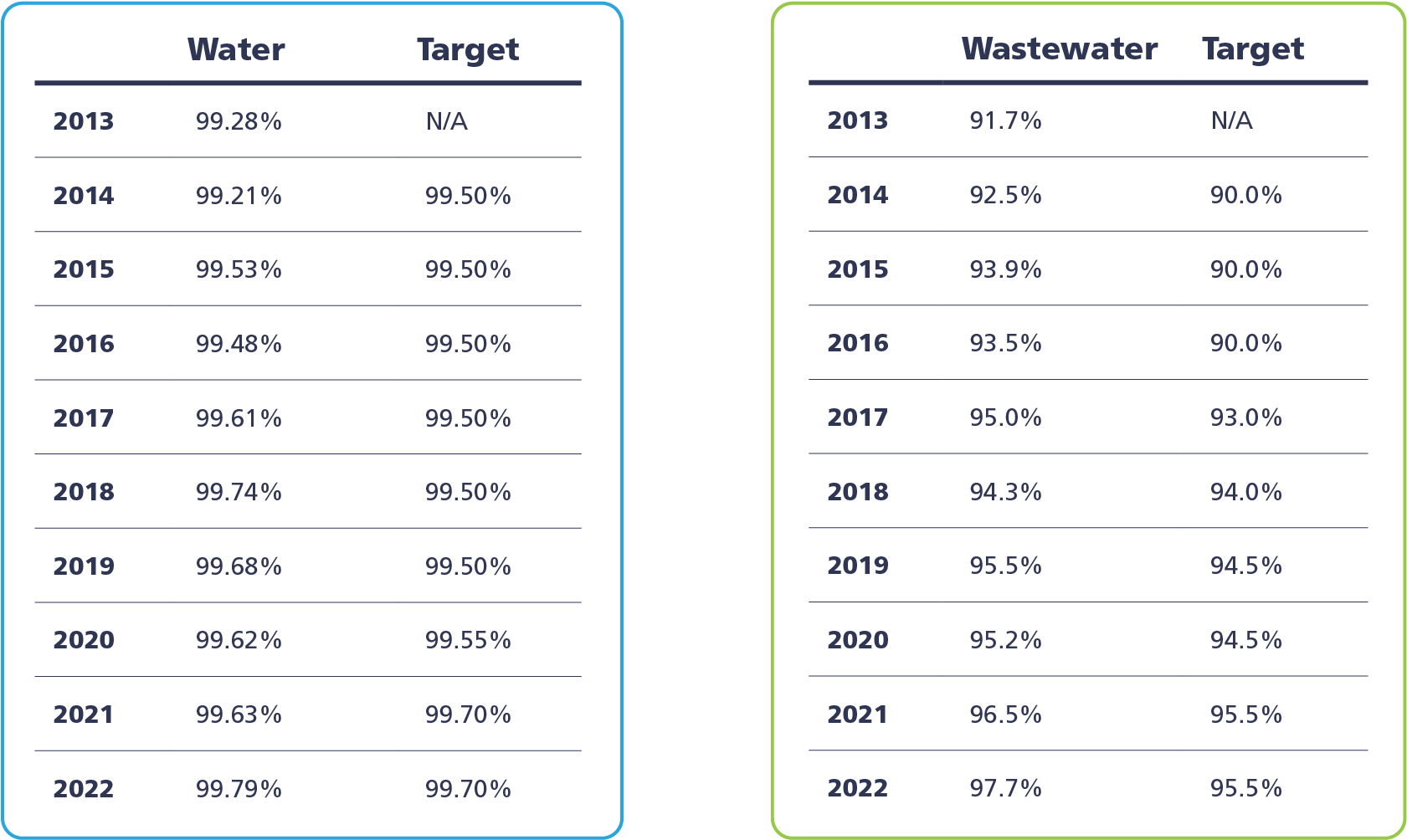 * To calculate the percentage of days in compliance, we utilize the AWWA benchmarking method, in which the number of days out of compliance, tallied for all our systems, is divided by the product of number of days in the year and the quantity of systems we operate. We compare this resulting figure against internal targets we had set.
Water Compliance
According to the EPA, about 1 in 15 U.S. community water systems have health-based violations1.
Fewer than 1 in 50 Essential community water systems have had health-based violations in any given year. We are proud of our track record of outperforming the U.S. average at-large by, typically, at least four times and are consistently working toward improving that figure through investments in our water treatment and infrastructure.
Water Compliance Metrics
| | 2022 | 2021 | 2020 |
| --- | --- | --- | --- |
| Systems with Tier 1 violations | 13 | 6 | 4 |
| Systems with Tier 2 violations | 8 | 11 | 16 |
| Systems with Tier 3 violations | 39 | 88 | 73 |
| Total tier violations | 55 | 101 | 93 |
| % of systems with tiered violations | 3.9% | 6.7% | 5.7% |
| % of systems with tier 1 + tier 2 | 1.4% | 1.1% | 1.3% |
| % of systems with tier 3 only | 2.6% | 5.8% | 4.8% |
| Total # of systems | 1,512 | 1,518 | 1,522 |
Tiers as defined as per EPA regulations. https://www.epa.gov/dwreginfo/public-notification-rule
Tier 1 violations are defined as those violations of the National Primary Drinking Water Regulations (NPDWR) that require public notice and have significant potential to have serious adverse effects on human health as a result of short- term exposure.
These include very short term (1 day to 7 days) boil water notices and can be required due to loss of pressure from a water main break or due to the effects from a major storm. In Essential's assessment, the year-on-year increases noted are not material in terms of the overall risk to our systems.
Tier 2 violations are defined as violations of the NPDWR that require public notice and have potential to have serious adverse effects on human health.
Tier 3 violations are defined as violations of the NPDWR not included in Tier 1 and Tier 2 that require public notice but are not considered to have a direct impact on human health (such as violations of monitoring and reporting).
Some prior year data, especially Tier 3 violations, may shift versus prior reporting. This is driven by timing differences related to the regulatory review process and this report preparation.
Water Compliance Vs. U.S. Averages
Measured as percentage of community water systems with health-based violations. U.S. averages compiled from the EPA's ECHO Database
| | Essential | U.S. | Outperformance |
| --- | --- | --- | --- |
| 2022 | 1.4% | 6.7% | 4.8x |
| 2021 | 1.1% | 6.3% | 5.7x |
| 2020 | 1.3% | 6.6% | 5.1x |
Some prior year data may shift versus prior reporting. This is driven by timing differences related to the regulatory review process, time it takes for EPA to provide country wide data and this report preparation.
About 92% of our water systems are comprised of fewer than 500 connections. Even when Essential's very small water systems are compared with U.S. averages for their size bracket, the trend still holds: We greatly outperform the U.S. average at-large for water quality.
Essential annually publishes water quality reports, or Consumer Confidence Reports (CCRs), on its website. CCRs summarize the quality of water Essential provides for each water system, including information about its water sources, what its drinking water contains and how it compares to standards established by the EPA. Please visit our website for more information and to access these reports. We also encourage our customers to contact our customer service center with any questions or concerns about their water quality and service.
More than 90 contaminants are regulated in drinking water. They require testing at varying frequencies and locations within a system, depending on several factors. These required monitoring results are published in our CCRs. Beyond this mandated testing, we conduct operational monitoring to optimize our processes and source water monitoring to understand if water quality is changing over time in our systems. This data enables proactive improvements to treatment and investigation of better water sources we can develop and use.
In March 2021, we opened a brand new, state-of-the-art environmental laboratory at our Bryn Mawr headquarters. The exciting new lab is just one example of our commitment to operational excellence and our mission to protect the public health and ensure clean, safe, reliable water.
The new two-story building more than doubles the size of the previous laboratory that served the company for more than 70 years. This space allows us to adapt to the dynamic regulatory environment that will require additional sampling and equipment necessary for water and wastewater operations. It also accommodates our increasing footprint as we acquire additional customers and systems.
The lab employs 20 professional staff members, including microbiologists and chemists who perform approximately 300,000 tests on 30,000 water samples each year. These scientists use 50 various analytical methods for roughly 240 water quality parameters. The laboratory is certified by the Pennsylvania Department of Environmental Protection and four other state environmental or health regulatory agencies. And as we've transitioned from measuring in parts per million to parts per trillion, a million-fold increase in detection levels, we feel confident that we will be able to deliver water that is safe and that the wastewater we treat and return to our rivers, lakes and streams is cleaner than it is when we remove it to treat it for drinking water.
Wastewater Compliance
Essential's primary duty is to meet the requirements of all local, state and federal regulations for its wastewater treatment plants. This means our wastewater systems must achieve greater than 90% removal of regulated elements during the treatment process.
In 2022, more than 99.98% of the wastewater volume we treated achieved this high level of compliance through our use of secondary treatment processes to remove organics and solid materials. However, in many sensitive areas – such as the Chesapeake Bay area – we used tertiary treatment processes to remove nutrients such as nitrogen and phosphorus as required by regulations.
Wastewater Operations Compliance Summary
Number of events of non-compliance associated with water effluent quality permits, standards, and regulations
| | 2022 | 2021 | 2020 |
| --- | --- | --- | --- |
| Events | 148 | 253 | 334 |
| Days in compliance | 97.7% | 96.5% | 95.2% |
We attribute our trend of improvement to a combination of operational initiatives and capital projects, particularly in Texas.